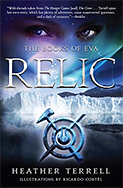 RELIC
When Eva's twin brother, Eamon, falls to his death just a few months before he is due to participate in The Testing, no one expects Eva to take his place. She's a Maiden, slated for embroidery classes, curtseys, and soon a prestigious marriage befitting the daughter of an Aerie ruler. But Eva insists on honoring her brother by becoming a Testor. After all, she wouldn't be the first Maiden to Test, just the first in 150 years.

Eva knows the Testing is no dance class. Gallant Testors train for their entire lives to search icy wastelands for Relics: artifacts of the corrupt civilization that existed before The Healing drowned the world. Out in the Boundary Lands, Eva must rely on every moment of the lightning-quick training she received from Lukas—her servant, a Boundary native, and her closest friend now that Eamon is gone.

But there are threats in The Testing beyond what Lukas could have prepared her for. And no one could have imagined the danger Eva unleashes when she discovers a Relic that shakes the Aerie to its core.
Visit relicthebook.com for more!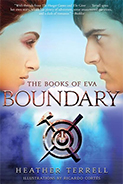 BOUNDARY
Eva is the first Maiden in Aerie history to train as an Archon: a sacred leader of New North. All eyes are watching her as she prepares to uncover the Relics of the evil past. Wounds remain: both from the harrowing Testing and the murder of her twin brother, Eamon. But she has learned to feign grace. And although she is betrothed to Jasper, she carries a secret. Lukas, a Boundary dweller and former servant, still visits her in the dead of the night. And he alone may know who killed her twin brother.

Her feeling for Lukas are forbidden. Even more troubling is his conviction that she is the Angakkuq, a mystical figure destined to destroy the Aerie. Eva tries to focus on finding Eamon's killer, but on her very first Archon expediton, she uncovers the Genesis: the legendary ship that brought the Founders to New North. What they find in the Genesis upsets the fragile balance between the Aerie and the Boundary, and threatens to destroy their entire civilization. Eva's world is shattered, but she may be the only one who can – as both Archon and Angakkuq – prevent a war that would take everything from her.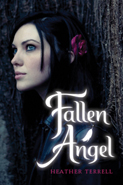 Fallen Angel
Heaven-sent?
Ellie was never particularly good at talking to boys—or anyone other than her best friend and fellow outcast, Ruth. Then she met Michael.
Michael is handsome, charming, sweet. And totally into Ellie. It's no wonder she is instantly drawn to him. But Michael has a secret. And he knows Ellie is hiding something, too. They've both discovered they have powers beyond their imagining. Powers that are otherworldly.
Ellie and Michael are determined to uncover what they are, and how they got this way . . . together. But the truth has repercussions neither could have imagined. Soon they find themselves center stage in an ancient conflict that threatens to destroy everything they love. And it is no longer clear whether Ellie and Michael will choose the same side.
In this electrifying novel, Heather Terrell spins a gripping supernatural tale about true love, destiny, and the battle of good versus evil.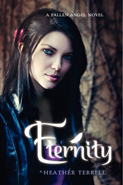 Eternity
The end . . or a new beginning?
As Ellie comes to grips with her destiny as the Elect One, her relationship with Michael grows tense. When she meets a mysterious boy names Rafe, things get even more complicated.
Yet the time has come for the Elect One to stand against the group of fallen angels who are bent on destroying the wolrd. In order to face the immeasurable malevolence heading her way, Ellie tries to put her personal life aside. But she soon learns that whoever holds her heart also holds the key to mankind's salvation -- or destruction. As the end days approach, Ellie is faced with an epic decision. Who does her heart really belong to? And is her love strong enough to save the world?