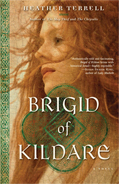 Brigid of Kildare
Fifth-century Ireland: Brigid is Ireland's first and only female priest and bishop. Followers flock to her Kildare abbey and scriptorium. Hearing accounts of Brigid's power, the Church deems her a threat and sends Decius, a Roman priest and scribe, on a secret mission to collect proof of Brigid's heresy.

As Decius records the unorthodox practices of Brigid and her abbey, he becomes intrigued by her. When Brigid assigns Decius a holy task—to create the most important and sacred manuscript ever made—he finds himself at odds with his original mission and faces the most difficult decision of his life.

Modern day: Alexandra Patterson, an appraiser of medieval relics, has been summoned to Kildare to examine a reliquary box believed to belong to Saint Brigid. Hidden within the sacred box is the most beautiful illuminated manuscript Alex has ever seen. But even more extraordinary is the contents of the manuscript's vellum pages, which may very well rewrite the origins of Christianity.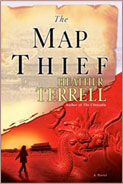 The Map Thief
Beijing, China, 1421: It is a momentous time for the Ming Dynasty. Honoring the completion of the Forbidden City, a fleet of unprecedented size sets sail under Admiral Zheng He. Zheng's mission is to chart the globe, trading for riches and bringing glory to China's emperor. Among the crew is the talented cartographer and navigator Ma Zhi, whose work will lead to the first true map of the world–but whose accomplishment will vanish when the fleet returns to a very different China than the one it left. read more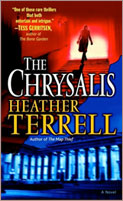 The Chrysalis
Haarlem, Holland, seventeenth-century: The city's chief magistrate commissions a family portrait from Dutch master painter Johannes Miereveld. But when the artist sees the magistrate's daughter, Amalia, an illicit love affair begins. Miereveld creates a captivating masterpiece, The Chrysalis–a stunning portrait of the Virgin Mary, full of Catholic symbols, that outrages his Protestant patron and signals the death of his career. read more