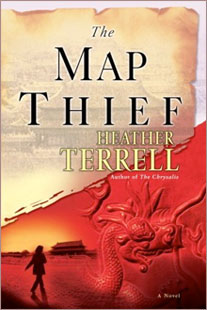 ISBN-10: 0345494687
ISBN-13: 978-0345494689
amazon.com
barnesandnoble.com
booksense.com
booksamillion.com
Description
Beijing, China, 1421: It is a momentous time for the Ming Dynasty. Honoring the completion of the Forbidden City, a fleet of unprecedented size sets sail under Admiral Zheng He. Zheng's mission is to chart the globe, trading for riches and bringing glory to China's emperor. Among the crew is the talented cartographer and navigator Ma Zhi, whose work will lead to the first true map of the world–but whose accomplishment will vanish when the fleet returns to a very different China than the one it left.

Lisbon, Portugal, 1496: At the height of Portugal's maritime domination during the Age of Discovery, the legendary explorer Vasco da Gama embarks on a quest to find a sea route to India. On board is navigator Antonio Coehlo, who guards Portugal's most secret treasure: a map that already shows the way.

New York, present day: Mara Coyne's new client has left her uneasy. Republican kingmaker Richard Tobias has hired her, he says, because of her skill in recovering stolen art and advocating for the rightful owners, but Mara senses that he is not telling her everything. Tobias reveals that a centuries-old map was stolen from an archaeological dig he is sponsoring in China, and he wants her to get it back. But as Mara begins her investigation, she uncovers the shocking truth: The map is more valuable than anyone has ever imagined, and her client's motives are more sinister than she suspected.

Weaving rich historical detail and astounding fact into a fast-paced suspense-fiction ride, The Map Thief is an incredible entrée to the murky underworld of stolen artifacts and the thieves and traders who broker them. From Hong Kong to the Italian countryside, from Lisbon to the remote reaches of Communist China, and literally around the world on the ships of fifteenth-century explorers, Heather Terrell takes readers on a globe-trotting adventure of epic proportions.